"There's nothing more powerful than a woman who chooses to believe in herself and goes all in on her dreams."
Alexane Palica is a young woman with a passion for aesthetics, determined to fulfill her greatest dreams through perseverance and innovative ideas.
Alexane has always been fascinated by the world of beauty and the arts. At the age of 16, she began working as a beauty consultant cosmetician, where she learned the basics of her future profession.
Beauty consultant cosmetician, 2015
A student in business management at the time, Alexane decided to take her eyelash extensions course at La Station Beauté, despite the discouragement of her family and friends who saw no future in this field. The young woman, more motivated than ever, wanted to prove them wrong and decided to pursue her dreams no matter what. She began offering her services from a small room in her Montreal apartment.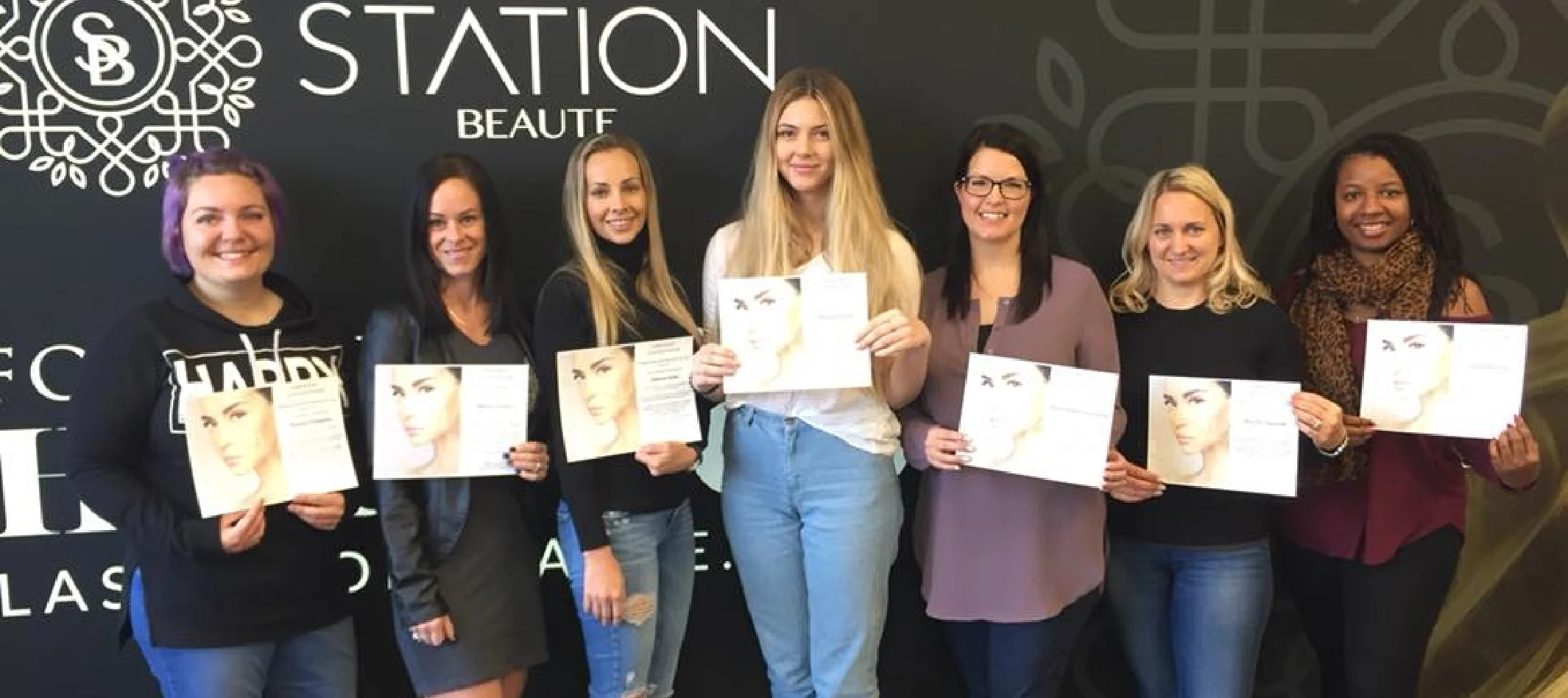 Certification in eyelash extensions 2017
2019 Epiderma Bursary Winner
Wishing to broaden her horizons and pursue her ideas of grandeur, Alexane Palica then decided to reorient her field of study to become an esthetician. Thanks to her determination and talent, Alexane won the Épiderma scholarship, awarded to exemplary future beauticians. The young woman then pursued her studies by taking a course in photoepilation and electrolysis, thus broadening her knowledge base.
In 2019, Alexane Palica joins La Station Beauté as a trainer. This new path will enable the passionate beautician to share her knowledge with other women wishing, in turn, to pursue their dream and turn their passion into a profession.
Certification en microneedling, 2019
With her creative ideas, ambition and talent, Alexane joined La Station Beauté as a new partner in 2020. Sharing the same ideas of grandeur as owner Chloé Jacques, the two women join forces to revolutionize the world of esthetics by offering high-end, cutting-edge training.
Today, Alexane Palica continues to share her knowledge and show women that, thanks to their ambition and perseverance, they can all take the road to success and realize their dreams.
Lash enhancement training, 2022
2013
Beauty consultant cosmetician
Pharmaprix, beauty gallery
2017
Eyelash extension technician
La Station Beauté
Ombre Brows certification
La Station Beauté
Eyelash Enhancement Technician
La Station Beauté
2018
Russian Volume Technician
La Station Beauté
2019
Diploma in Aesthetics
Center de formation professionnel de Verdun
Microdermabrasion certification
Center de formation professionnel de Verdun
Microneedling technician / Non-medical mesotherapy
La Station Beauté
Certification of blood-borne pathogens
La Station Beauté
Henna eyebrow tinting technician
La Station Beauté
2020
Photoepilation and electrolysis technician
Center de formation professionnel de Verdun
Lipblush Technician
La Station Beauté
Shadow Brows Technician
Diamond Shading and Ombre Brows technique, La Station Beauté
Hybrid Brow Masterclass
Carole Evrard Medico Derm Academy Europe
Masterclass Freckles
Carole Evrard Medico Derm Academy Europe
2021
Certification training program G.M. Collin
Technique Magic Skin care products, chemical peeling, G.M. Collin
Masterclass Frozen Lips
LipBlush lip pigmentation, Agnès Permanent Germany
Masterclass Dark Lips
Dark lip neutralization, Tess Tattoo
Tiny Tattoo
Feather touch Academy
Make Dreams Possible – Make Dreams Possible
Give A Constant Support – Give A Constant Support