FIND A SOFT AND SATINY SKIN
Laser hair removal, also known as photoepilation, is a technique in which light from the electromagnetic spectrum is used to permanently miniaturize hair over the course of several sessions. The service is fast, effective and causes virtually no pain. This method of hair removal is permanent and non-aggressive to the skin.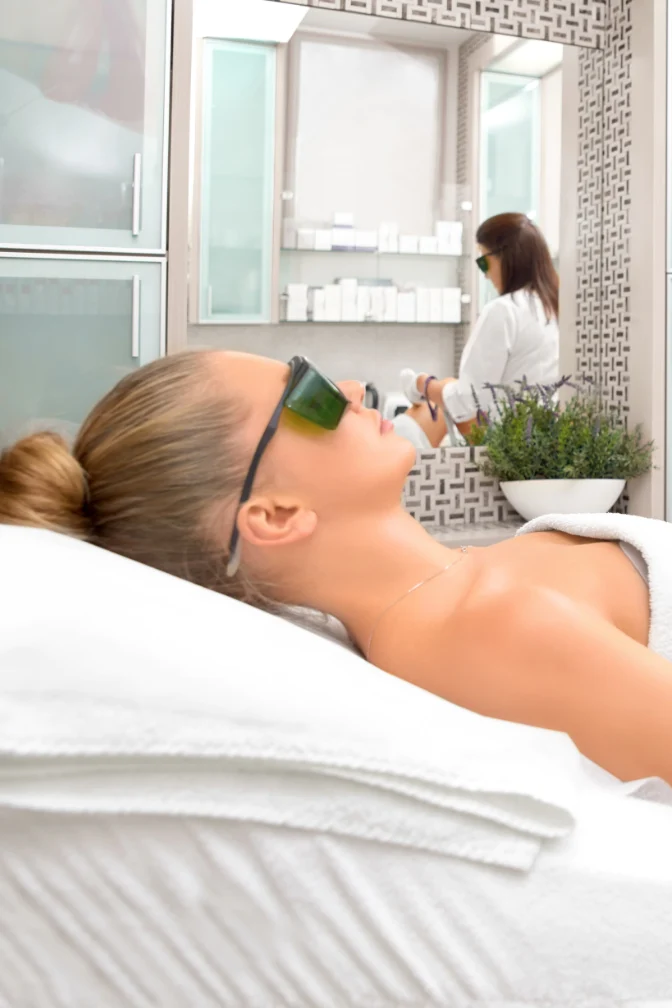 Laser hair removal can be used to treat almost all body areas on all skin types. Over the course of the sessions, you will see a gradual reduction in hair. The sessions are quick and practically painless. You won't be able to do without it!
Find out more about the treatment.
How does photoremoval work?
In photoepilation, our target is the melanin (pigment) contained in the hair. The hair absorbs the energy produced by the light and converts it into heat, which leads to its destruction.
In order for the treatments to be effective, your hair must be darker than your skin. Treatments do not work on light blonde, white or red hair as they do not contain enough melanin.
Body areas with tattoos should be bypassed. Indeed, since the light of the device is attracted by the pigment, it will not make the difference between the melanin of the hair and the ink of the tattoo which would increase the risks of causing a burn on the skin.
>
What are the benefits of photoepilation?
– State-of-the-art laser technology
– Fast and effective treatments
– Virtually painless
– Suitable for all skin types
>
How many sessions will be needed?
Laser hair removal sessions are performed at intervals of 6 to 8 weeks for body treatments and 4 to 6 weeks for facial treatments.
Six to eight sessions are usually required to complete the treatments.
Depending on the areas treated, appointments can last from 15 minutes to 90 minutes.
>
Laser and intense pulsed light, what are the differences?
Laser and Intense Pulsed Light (IPL) are similar in many ways, as they are both methods of permanent photoepilation.
However, there are major differences between these two methods when used for hair removal. In summary, IPL is a device that uses light in various spectrums, at different wavelengths, thus allowing the treatment of several skin conditions. The laser, on the other hand, uses only one wavelength, but in a very powerful way.
During a photoepilation session, since IPL targets not only the hair but also its surrounding tissue, the light loses heat and intensity, which limits its effectiveness. Using IPL for hair removal sessions will therefore require more sessions to achieve the same result as with laser.
Since the laser only targets the hair in a very powerful and concentrated way, the damage to the hair follicle will be more important. This method also causes less damage to the surrounding tissue. The laser is therefore more effective and less painful than IPL because it does not heat the tissues unnecessarily.
>
What you will need to do before & after the service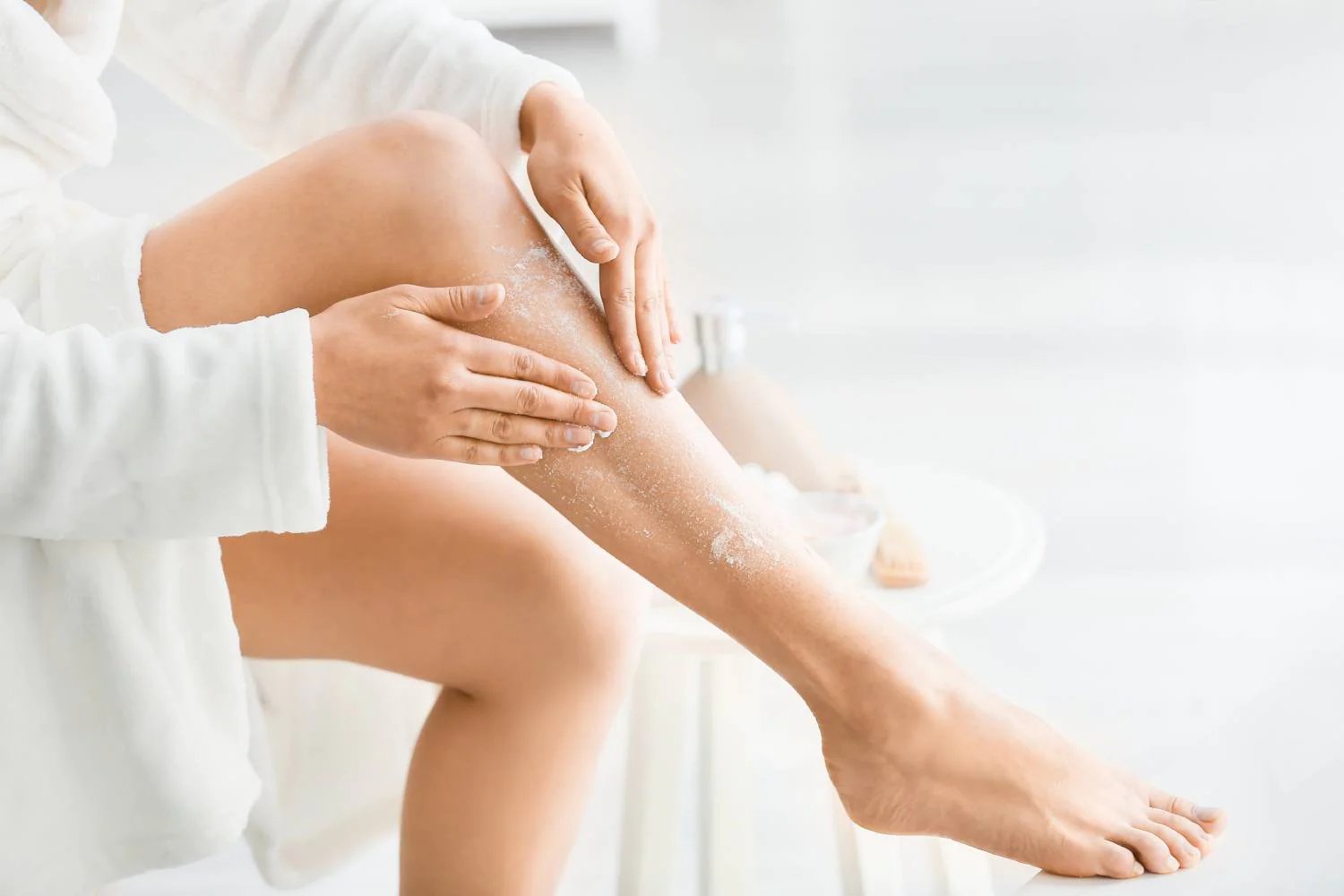 You must shave the area to be treated with a hand razor 24 hours before your waxing session. A $15 fee will be added for the razor and shaving, if applicable.
You must not use any other hair removal method such as depilatory cream, sugar, bleach, wax, electrolysis, tweezers or others for a minimum of 4 weeks prior to your first appointment and during the entire treatment period.
You must not expose yourself to the sun or tanning booths for a minimum of 4 weeks before your appointment. You must then avoid the sun for the duration of the treatment. If you are exposed to the sun, a sunscreen must be applied to the treated area for the entire duration of the sessions.
You must stop using anti-aging, anti-acne or hydroquinone creams on the area(s) to be treated 5 days before and 5 days after your appointment.
It is imperative that you inform us of any medication you are taking before your first appointment as well as any changes during your treatments.
For an underarm treatment, do not apply deodorant at least 48 hours before the session.
On the day of your session, wear white underwear.
On the day of treatment, you should not exfoliate, apply makeup or moisturizer to the treatment area.
Avoid touching or scratching the treated area(s). You should not expose the treated area(s) to the sun.
Do not use exfoliating products on the treated area for 72 hours after treatment. Avoid hot baths, saunas or spas for 72 hours after treatment.
Some side effects such as redness, swelling, tenderness or tingling may occur in the treated areas up to 48 hours after the session. Apply cold water compresses and unscented aloe gel to soothe these effects.
*Don't forget to exfoliate and moisturize your skin between treatments.
Avoid all sports for 3 to 4 days following the treatment. For an underarm treatment, avoid the use of anti-sweat medication 24 hours after the session.
Avoid soaps and creams that are scented or contain alcohol for 72 hours after treatment. Choose a soap and cream without fragrance.
In the days following your treatment, you may notice some hair growing back. Many of these hairs are already treated and will fall out in the following days. If some persist, you can exfoliate the area with an exfoliating glove after 2 weeks. Above all, do not pull on these hairs. You can however continue to shave them.
Any person with a skin disease or infection such as; acne and skin inflammation, psoriasis, dermatitis, melanoma, lesion, hives, etc.
Anyone taking daily anticoagulants or anyone who has had treatment
Accutane within the last 12 months.
People who are diabetic, pregnant or nursing.
*Please note that certain contraindications may be admissible only with the approval of a physician.
People undergoing chemotherapy, hemophilia or having an autoimmune disease.
Some medications are photo-sensitizing and contraindicated for photoepilation treatments. At your first appointment, please bring a complete list of your prescription medications.
*Please note that certain contraindications may be admissible only with the approval of a physician.
It is now time to take
care of yourself!
WE ARE ARTISTS – WE ARE ARTISTS
WE ARE ARTISTS – WE ARE ARTISTS